---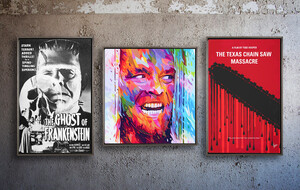 Oh The Horror!
Horror Films On Canvas
If you've ever been excited to pick up the phone and hear that voice ask "What's your favorite scary movie?" or spent your Halloween looking over your shoulder for a certain unstoppable masked killer who might be lurking nearby, then boy do we have the art collection for you. Each framed canvas artwork is an ode to the icons of horror and the movies that made you think twice before turning out the light.
Sale Ended
The sale has ended for this item, but check out our other amazing sales.